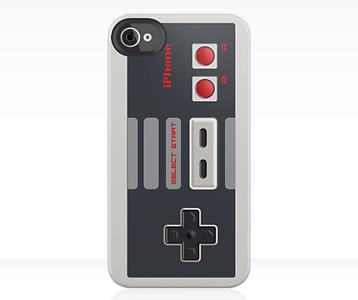 NES Controller iPhone Case
For every kid growing up in the 80s, 1985 was a huge year.  It marked the North American release of the Nintendo Entertainment System (or simply NES).  The 8-bit home arcade console took over family rooms in a way that no previous console ever had, selling nearly 62 million units.  This Nintendo Controller iPhone case is a tribute to that legacy, which has left us with iconic characters like Mario and Zelda, in addition to numerous other consoles that built on the technology and graphics of their predecessors.
For some adults, it became a frustrating time, as they watched kids opt for Tecmo Bowl and Double Dribble over going outside to throw football or play basketball.  For me, it was something fun to do with friends on rainy days.  It also required coordination and some thought, which is more than can be said for ordinary TV watching.  Armed with the controller displayed on this NES iPhone case, we played until our hands cramped and our thumbs callused.  Soon, adults were grasping for the Nintendo controller themselves, unable to resist the temptation.  This iPhone cover celebrates the legacy of console video games, which cater to neither the young nor the old, but to the gamer in us all.
Tags: 80s, controller, iPhone, NES, Nintendo, Super Mario, video game