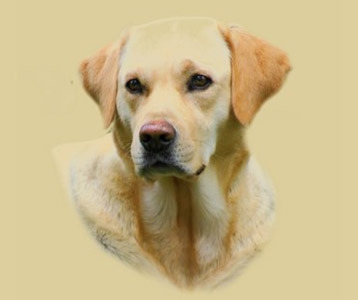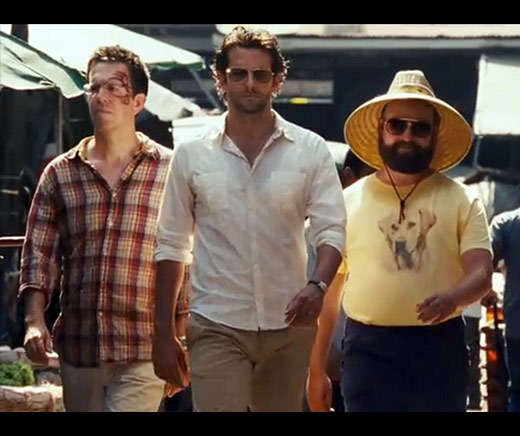 Like many of you reading this post, I just caught a glimpse of the Hangover 2 trailer and was instantly taken in by the Zach Galifianakis Yellow Lab shirt.  After having seen the first movie (and loving it beyond words), I can't help but think about how perfectly this Hangover 2 t-shirt seems to fit Alan's personality…especially when paired with that straw hat that covers his newly shaven head.  If the movie is even half as original as Alan's Hangover 2 Lab tee looks in the trailer, it's going to be a riot.
Stu (Ed Helms), Phil (Bradley Cooper), Doug (Justin Bartha) and Alan (Zach Galifianakis) are together again but this time they have gone international.  Rather than hitting up Vegas for a second time, they have made their way around the world to Bangkok.  What brings them there?  Stu's wedding!  Thankfully, he's not getting married to that mean control freak Melissa (Rachel Harris) but also sadly not to the sweet stripper Jade (Heather Graham) either.  I can't wait to see what kind of shenanigans the guys get into this time around.  Given their previous trip together, I'm sure we are in for a few good surprises.  With people like Liam Neeson and Bill Clinton popping up in the sequel, we are probably in for some shocking scenes and eye popping attire like Alan's Hangover 2 Lab t-shirt.  It's only fitting that he likes dogs given that he was extra scruffy and in need of grooming in the last movie himself.
When this highly anticipated movie hits theatres, be in the front row donning your very own Hangover 2 Yellow Labrador Dog t-shirt Alan wears in the film.  You are bound to get compliments galore and people wanting to get their hands on their own for an awesome Alan Hangover 2 costume that is bound to be popular this coming Halloween.  All that you'll need is Alan's straw hat.
Sold by: Zazzle Artist: Friskybizpet Designs Categories: Movies, Seen On Screen