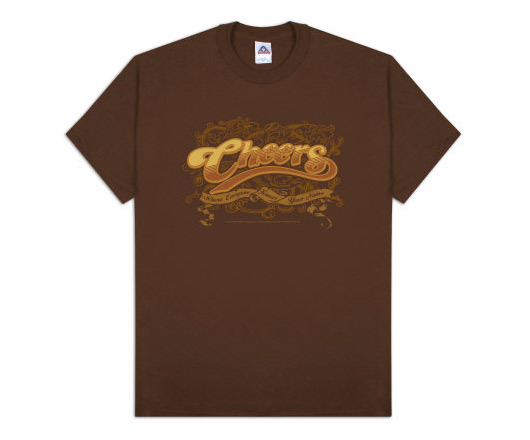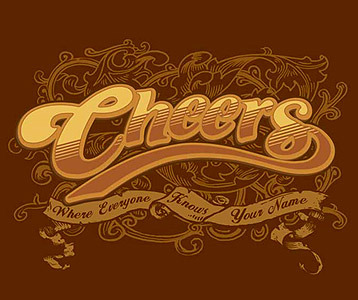 "Making your way in the world today takes everything you've got.  Taking a break from all your worries sure would help a lot."  This line is from the Cheers theme song and we couldn't have said it better ourselves.  If you like to take a break once in a while from the stress of daily life, then this tee is right up your alley.  This Cheers t-shirt features the bar logo and the famous tagline, "where everybody knows your name".
The TV show Cheers is a comedy about the daily occurrences of a Boston bar of the same name.  The establishment's logo is displayed on this Cheers tee.  The show ran for a remarkable eleven seasons from 1982 to 1993, with many of the cast lasting the entire duration.  The employees include womanizing bar owner Sam Malone (Ted Danson), mouthy waitress Carla Tortelli (Rhea Perlman), simple minded bartender Woody Boyd (Woody Harrelson) and a snotty waitress named Diane Chambers (Shelley Long).  Diane was replaced by manager Rebecca Howe (Kirstie Alley) after the fifth season.  Regulars at the bar include overweight accountant Norm Peterson (George Wendt), mailman Cliff Clavin (John Ratzenberger), uppity psychiatrist Frasier Crane (Kelsey Grammer) and his insensitive wife Lilith Sternin (Bebe Neuwirth).  The series also resulted in a hit spin off titled Frasier, which followed the psychiatrist and his life in Seattle following his divorce.
If you have a regular bar or wish you were a part of this one, then snag this Cheers t-shirt because "sometimes you want to go where everybody knows your name".
Sold by: Amazon Category: TV