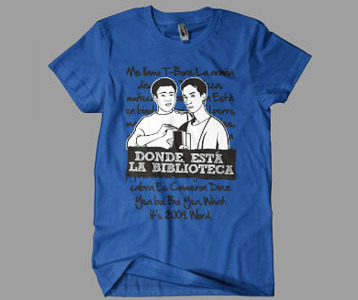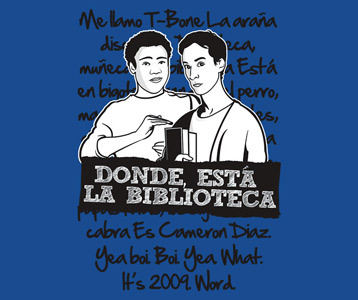 We all know that studying can be boring sometimes.  That's why when Abed (Danny Pudi) drops a beat while studying with Troy (Donald Glover), his friend picks up on it and provides some humorous lyrics in the form of a Spanish rap that Abed joins in on.  This La Biblioteca shirt displays Abed and Troy with the lyrics to their Spanish rap in the background.
Where is the library
My name is T-Bone
the disco spider.
Disco, doll, the library
Is in big mustache, dog, lard.
Lard, mustache, huge, little
head is ice cream,
beer is good.
Good day, I like cold potatoes,
the goat's mustache
is Cameron Diaz.
Yea boi.  Boi.
Yea what.
It's 2009.
Word.
Wear this Community Spanish Rap t-shirt to make others aware that you know where la biblioteca is at, in addition to being the disco spider.
Sold by: RedBubble Category: TV