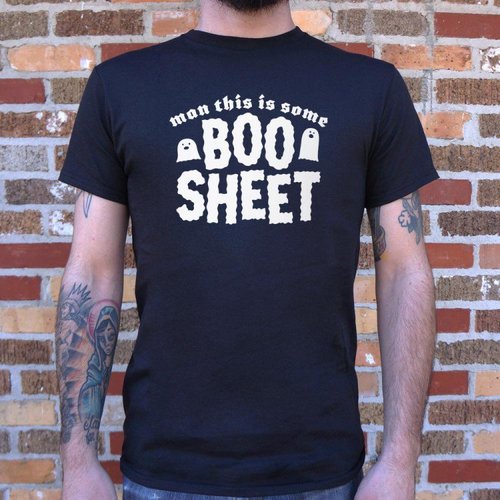 Boo Sheet
Designed by 6 Dollar Shirts and discovered at 6 Dollar Shirts.
6 Dollar Shirts Review | Vitals:
Updates:
Daily at 12am EST
Genres:
Movies, TV, Humor, Geek, Animals
Prints On:
Gildan, American Apparel, Hanes, Delta
Printing Method:
Screen
Founded:
2005
6 Dollar Shirts Site Review | Summary:

You might be wondering how a site that calls itself 6 Dollar Shirts can offer a tee deal of the day, given that their shirts already sell for a mere six dollars. The answer is that they currently give you $2 off their daily deal if you sign up for their daily deal email. It's part of their Tee Time deal promotion that features their newest shirt, which they currently unveil daily. Originally, they had offered Free Shipping as part of their shirt deal of the day, but they raised it to $2 shipping after a few months. The next thing that you're probably thinking is that these shirts must be bottom of the barrel in terms of quality. Actually, they're not. 6 Dollar Shirts silk screens onto brands like Gildan, Hanes, American Apparel and Delta. So, how does 6 Dollar Shirts make money? The company hopes that you take them up on their most popular deal, "ten tees for only $50". With more than 200 shirts to choose from, it's not hard to find more than a handful of five dollar shirts that are worth buying. The only problem at that point is finding the closet space to store them.