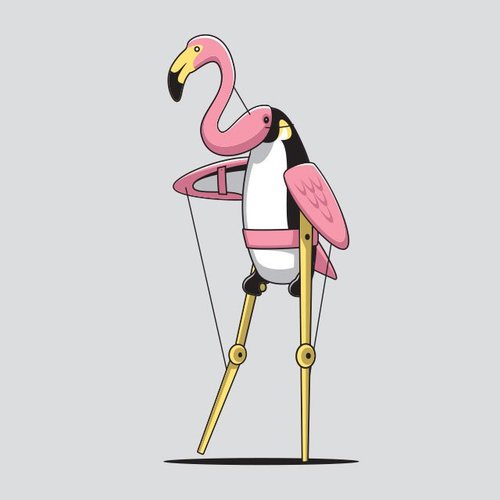 Penguin Puppetry
Designed by Glenn Jones and discovered at Glennz Tees.
Glennz Tees Review | Vitals:
Updates:
Deals are Offered M-F at Varying Times
Genres:
Humor, Movies, TV, Games, Geek
Prints On:
American Apparel (100% cotton)
Printing Method:
Screen
Founded:
2008
Glennz Tees Site Review | Summary:

The first thing you notice about Glennz Tees is the 'z' at the end of the word "Glennz" in the site's name. This was done intentionally since the site's creator, Glenn Jones, hails from Auckland, New Zealand ('NZ'). Glenn Jones t-shirts are well-known among designers and fans, as he first made a name for himself on the popular graphic tee site Threadless. The large following he acquired there inspired him to create Glennz Tees, his own store where he offers a large selection of his work, including new designs that users can vote on in an effort to see them printed.
Glenn's smooth designs and ingenious concepts make his often humorous tees practically irresistible, even at full price. Glennz Tees deals are featured as part of the site's "Save Wave" to which he regularly adds tees, making the newest tee to the wave available for around $15.95. The previous design goes up a dollar and continues to rise that amount with each new shirt that is added to the wave. We offer the newest and most affordable Glenn Jones t-shirt deal here, and checking Feistees daily will ensure that you never miss a Glennz Tees deal. There are no noticeable negatives to Glennz Tees, except perhaps that the often incredibly well thought designs can sometimes seem a bit detached from the tees themselves. Then again, the concepts are often so cool that it doesn't really matter.