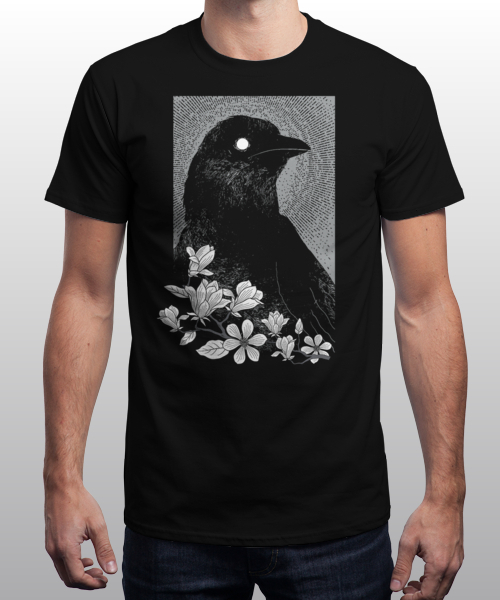 The Raven
Designed by clingcling and discovered at Qwertee Yesterday.
Qwertee Website Review | Vitals:
Updates:
Daily at 6pm EST
Genres:
Pop-Culture, Movies, Games, TV
Prints On:
Gildan Softstyle (100% ring spun cotton)
Printing Method:
Screen
Pays Artists:
10% of Each Shirt Sold
Founded:
2010
Price at Launch:
$14
Current Price:
$14
Qwertee Site Review | Summary:

At the beginning of November 2013, Europe's first t-shirt of the day website, Qwertee, debuted a site redesign that put more focus on their "Last Chance" t-shirt (yesterday's tee offered at the slightly elevated price of $14, which they first debuted in February of 2012). Similar to TeeFury's "After Hours" section, Qwertee is now putting even more focus on the previous day's t-shirt by featuring it alongside the current day's shirt on their main page. Other than making the Last Chance shirt more noticeable, Qwertee's redesign is arguably not any better than before, especially with regard to the appearance of the main page (I liked the look of the old better). However, in terms of functionality, they seem to have made certain improvements, including speeding up the site for mobile. I expect they'll do some polishing in the coming months to iron out the remaining issues that users have pointed out.