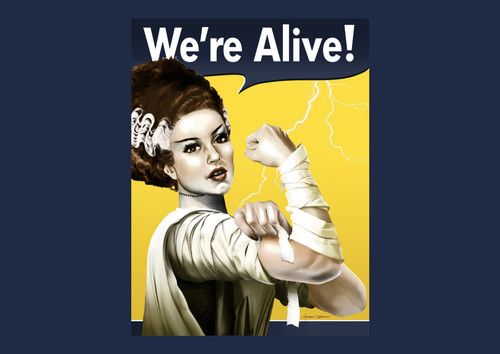 WE'RE ALIVE!
Designed by Voodrew and discovered at TeeFury Yesterday.
TeeFury After Hours Review | Vitals:
Updates:
Daily at 12am EST (available until 9am EST)
Genres:
Geek, Movies, TV, Games
Prints On:
Alstyle Apparel (100% ring spun cotton)
Printing Method:
Screen
Pays Artists:
$1 Per Sale
Founded:
2012 (After Hours)
Price at Launch:
$13
Current Price:
$14
TeeFury After Hours Review | Summary:

To see today's TeeFury design, visit our
main TeeFury page
. This page features yesterday's TeeFury shirt as long as it is still available for purchase (currently until 9am EST). In late July 2012, TeeFury introduced a new feature that they named TeeFury After Hours. Basically, once the clock strikes midnight ET, you now have the option of still being able to buy yesterdays t-shirt at an elevated price ($13). It seems like a smart idea on TeeFury's part. Not only do they make more money per sale, but they also allow the design to be available closer to the point when they will actually start printing the orders. For the customer, the TeeFury After Hours t-shirt gives people who've had last minute second thoughts about yesterdays TeeFury t-shirt another chance to buy it. In the end, it's a welcomed feature that's a win win for everybody.