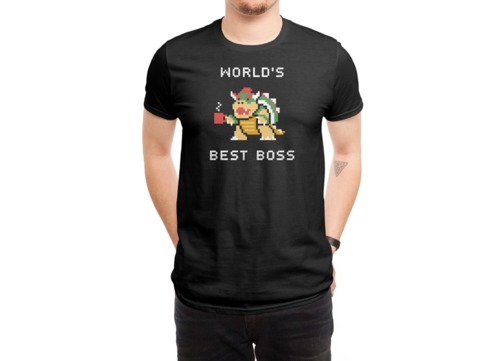 World's Best Boss
Designed by Cody Weiler and discovered at Threadless.
Threadless Review | Vitals:
Updates:
Weekdays at 11am EST
Genres:
Graphic, Movies, TV, Pop Culture, Humor
Prints On:
Anvil (100% cotton)
Printing Method:
Screen
Pays Artists:
$2,000 for Each Design Chosen to Be Printed, Plus Either a $500 Gift Certificate or $200 Cash
Founded:
2001
Price at Launch:
$12
Current Price:
$20
Threadless Site Review | Summary:

It's not an exaggeration to say that Threadless is one of the most well-known t-shirt companies on the internet. This page features the new Threadless daily t-shirt that they release Monday thru Friday. Originally, Threadless focused more on graphic t-shirts, however, recently they've been printing a growing number of pop culture and geek related tees. This shift in focus has enabled them to land contracts with major studios, allowing artists who submit work to Threadless to be able to create designs for
The Nightmare Before Christmas
, random Disney Villains, and a growing number of other official collections. A handful of artists whose work is featured on Threadless have become legends in the industry. This includes Glenn Jones, whose humorous designs and unique style have allowed him to start his own company with a loyal following. In addition to the new Threadless t-shirt released daily, be sure to check out their extensive catalog of products, which also includes hoodies, iPhone cases, bags and other fun items.