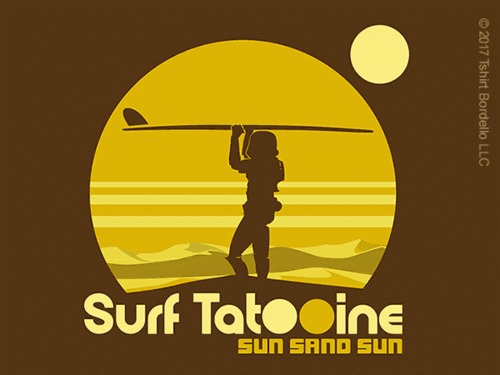 Surf Tatooine
Designed by T-Shirt Bordello and discovered at T-Shirt Bordello.
T-Shirt Bordello Review | Vitals:
Updates:
Varies
Genres:
Horror, Geek, Games
Prints On:
Men's Gildan and Women's American Apparel (100% cotton)
Printing Method:
Screen
Founded:
2007
Current Price:
$14.99
T-Shirt Bordello Site Review | Summary:

We've had a working relationship with T-Shirt Bordello since shortly after their launch in 2007, and I can honestly say that we've never been disappointed in the quality of their products. These include many impressive geek, gamer and horror t-shirts that feature favorites like Jason Vorhees,
The Walking Dead
,
Doctor Who
and
Star Trek
. Their men's t-shirts are printed on heavyweight Gildan brand tees that feel durable, not like a Kleenex that's going to shred to pieces after only a few washings. T-Shirt Bordello is not a shirt-a-day site in the stringent sense, but their competitive pricing and regular new horror and geek t-shirts earned them a spot on our list of t-shirt deals sites.