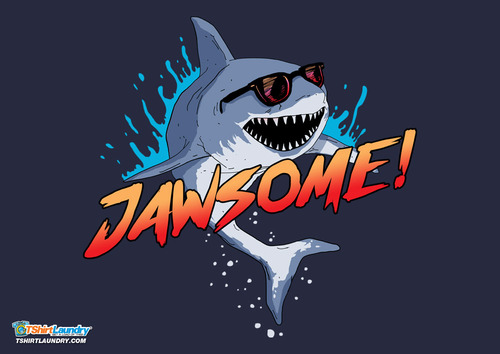 Jawsome Tshirt
Designed by TShirt Laundry and discovered at TShirt Laundry.
TShirt Laundry Review | Vitals:
Updates:
Tuesdays at 10am EST
Genres:
Humor, Movies, TV, Games
Prints On:
Gildan Soft Style (100% Cotton)
Printing Method:
Screen
Founded:
2010
Price at Launch:
$14
Current Price:
$14
TShirt Laundry Site Review | Summary:

This is the second of three new TShirtLaundry t-shirts on sale this week. The other two are linked below where you can read our
full TShirtLaundry review
. New t-shirts premiere every Tuesday and are offered at a discounted price for seven days. With a wide variety of cool designs that include Mario and Luigi dressed as Ghostbusters busting Boos and Rudolph standing over a pile of reindeer skulls with the quote, "They used to laugh and call him names," there's quite literally something for everyone at TShirtLaundry.