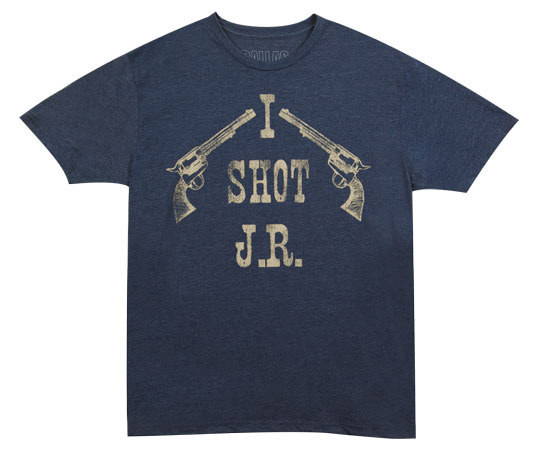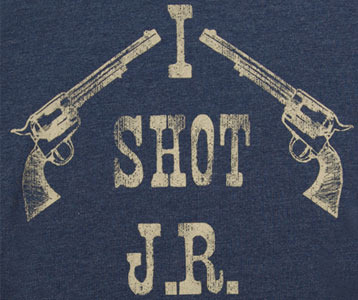 Who shot J.R.?  That is the question that perplexed millions of television fans in 1980.  The Dallas TV show shooting sparked an onslaught of merchandise, including items like this I Shot JR t-shirt.  Now is your chance to relive the excitement and suspense of the show that literally caused political schedules to be rearranged, so that employees could be a part of it.
Dallas began as a mini-series in 1978, but its success parlayed itself into a TV show that ran for a remarkable thirteen seasons.  It followed the conniving Texas oil family the Ewings, including Larry Hagman as J.R., Barbara Bel Geddes as Miss Ellie, Patrick Duffy as Bobby and Linda Gray as Sue Ellen.
Although it was already a hit, it was the third season finale episode, "A House Divided", that dragged fans in and left them yearning for more.  It was then that J.R. was shot by a mystery person and people were left wondering, "Who shot JR?"  T-shirts appeared as stumped fans tried to solve the attempted murder.  When Sue Ellen was eventually charged it seemed that the mystery was over.  However, in the Dallas episode "Who Done It?", viewers were shocked by a confession from J.R.'s mistress/sister-in-law Kristin Shepard (played by Mary Crosby).  At the time, this marked the highest rated episode in television history.  Commemorate this historical episode with an I Shot JR shirt.  Get your Dallas TV tee now.
Sold by: Amazon Category: TV