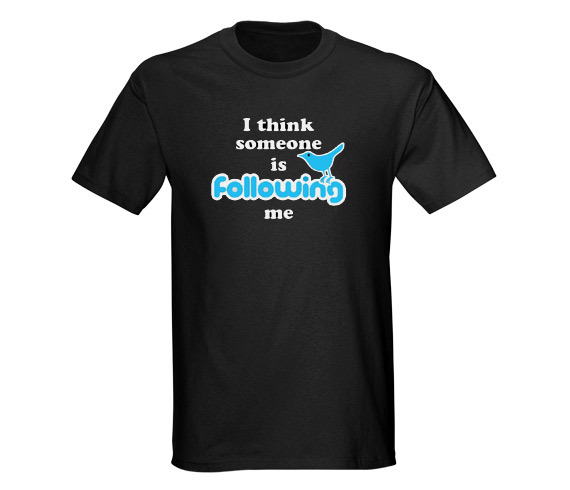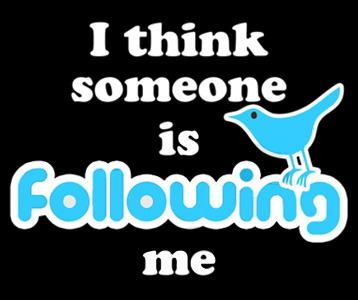 Assuming that you haven't been living under a rock for the past couple years, you probably have heard of Twitter.  While we are not among the millions of rabid users, many of our friends are, and they asked us to post this funny I Think Someone is Following Me Twitter t-shirt.  The custom design from Megdania is for my friends and all of the devoted members of the phenomenon, waiting to get their hands on a Twitter tee that is worth tweeting about.
Twitter is one of the newest free social networking sites to take over our lives.  Although it was started in 2006 by Jack Dorsey, Twitter took time to catch on and has only taken on a strong hold in the past year or two.  People can post messages known as "tweets" that are sent to friends and other members who are "following" them.  Celebrities like Kim Kardashian, Hugh Hefner, Paris Hilton and Lady Gaga have grasped onto this concept and ran with it.  They began allowing fans to follow their daily lives and thoughts with their random 140 character posts.  Some even get paid to promote products through tweets.  Average Joe's tend to stick with writing about the random daily tribulations they encounter and information they find helpful from the news.
If you think someone is following you, then you should be wearing this Twitter t-shirt when you tweet about it to all of your friends.  The clever wordplay and unmistakable font is sure to catch the attention of birdies everywhere.  Now get tweeting!
Sold by: CafePress Artist: Megdania Category: Geek