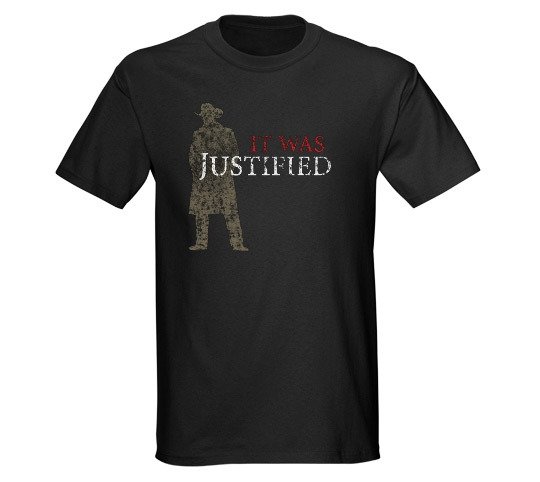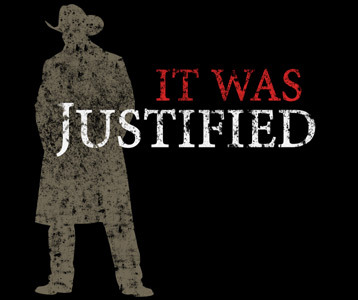 Now that I don't watch Gilmore Girls while eating dinner anymore (since I just finished watching every single episode ever made), I have moved on to new shows.  One of my most recent favorites is the FX TV show Justified, which is based on a character from Elmore Leonard's novels Pronto and Riding the Rap, and his short story "Fire in the Hole."  The TV series isn't exactly well known yet, but it is beginning to accumulate some fans.  If you have already latched on to this FX hit, then snatch up your Justified t-shirt now.  This tee is the perfect way to spread the word about Raylan and his crime fighting fiascos in the back woods of Eastern Kentucky.
The TV show Justified follows U.S. Marshal Raylan Givens (Timothy Olyphant from The Perfect Getaway) after he is reassigned from Miami (following a questionable shooting) to his rural Kentucky hometown, where he is reunited with old acquaintances, including his ex-wife Winona (Natalie Zea) and the insane criminal Boyd Crowder (Walton Goggins).
Raylan's signature cowboy hat, cowboy boots and side gun holster make him seem like he's straight out of the Wild West, and his tactics are along the same lines.  While his methods aren't always the most legitimate, he knows how to get things done and doesn't hesitate in the process.  When people question him about what happened, he simply replies, "It was justified."  This memorable Raylan Givens quote is displayed on the front of this FX Justified t-shirt as a tribute to his efficient brand of justice.
The initial season of the TV series finds Timothy Olyphant's Marshal Givens character in a relationship with the self-widowed Ava Crowder (Joelle Carter), who shot her husband after enduring years of abuse.  Raylan divides his time between protecting Ava from the rest of the Crowder family and working the cases that are assigned to him.  If the TV show's gritty action excites you too, lasso yourself a Justified tee and go get some bad guys before they get you.  Raylan wouldn't hesitate and neither should you!
Sold by: TeePublic Artist: Wayward Tees Category: TV