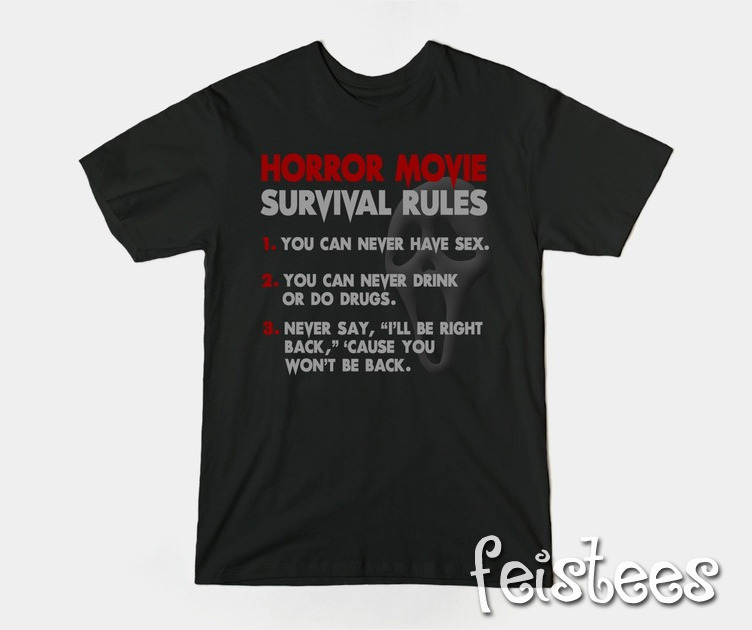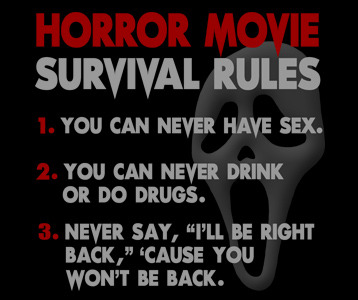 What's your favorite scary movie?  That simple question sparked a horror movie franchise that includes films which have been ranked among the scariest ever made.  If you agree that it deserves such high praises, then this Scream movie t-shirt is meant for you.  While you're wearing it, always remember to follow Randy's (Jamie Kennedy) horror movie survival rules:
1.  You can never have sex.
2.  You can never drink or do drugs.
3.  Never, ever, ever under any circumstances say, "I'll be right back." Because you won't be back.
The movie Scream, directed by horror maestro Wes Craven, was released in 1996 and has since become the number one grossing slasher film of all time.  The film carried on its legacy with a sequel that was released in 1997, a third installment in 2000 and a fourth in 2011.
The series of films represented by this Ghostface t-shirt follows a young lady named Sidney Prescott (Neve Campbell) whose mother is murdered in their hometown of Woodsboro.  Sid believes she has put her mother's killer behind bars.  However, on the anniversary of her mother's death, a rampage of murders occurs throughout the town by a man in a Ghostface mask.  With the assistance of Deputy Dewey (David Arquette) and reporter Gale Weathers (Courtney Cox), Sidney survives the first round of attacks and both murderers end up dead.  The following year she goes to college only to have the Ghostface killer reappear in her life and begin the terror all over again.  Now fifteen years later, she can't seem to escape people wanting in on the gruesome action that she has endured in her life.
If the chronicle of Sidney Prescott's life has kept you entertained for years then get your Scream movie shirt now.  It will have you shrieking…with delight.   Snatch this Ghostface killer tee up today.
Sold by: TeePublic Artist: Wayward Tees Category: Movies