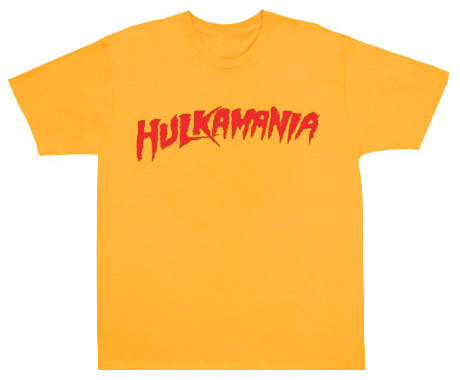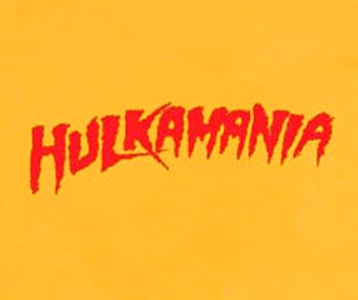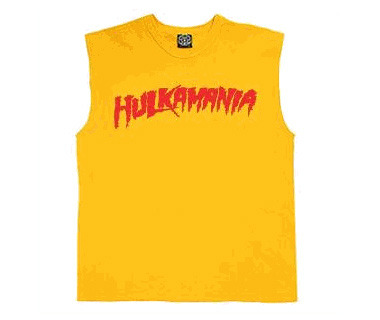 Apparently, I got a little behind (or a lot behind) on my reading of celebrity gossip, because I just now read that Hulk Hogan signed on to work with Total Nonstop Action Wrestling, also known as TNA.  If you are excited by this news or were a Hulkamaniac back in the day, then you'll love this Hulkamania t-shirt or tank top.  As a fan myself, this tee gets my vote.
Terry Gene Bollea is better known as professional wrestler Hulk Hogan.  His career peaked while he was working for the World Wrestling Federation (WWF) during the 80's and 90's.  He was typically known for his red and yellow attire, including a bandanna tied around his head and often a feather boa draped around his neck.  Hulkamania was used to describe everything Hulk and he referred to his fans as Hulkamaniacs.  His following was strong and still is.  It seems safe to say that wrestling is his one true love, because despite a number of injuries, he keeps coming back for more.  Aside from wrestling, he more recently starred in a VH1 reality show called Hogan Knows Best that documented life with his then wife Linda, daughter Brooke and son Nick.
Snag this Hulk Hogan Hulkamania t-shirt as a fun addition to any wardrobe.  The tank top is the perfect base for a Hulk Hogan costume.  Be careful though…the urge might strike you to rip the shirt off your own back while wearing it.
Sold by: TV Store Online Categories: Costume Ts, Seen On Screen, TV