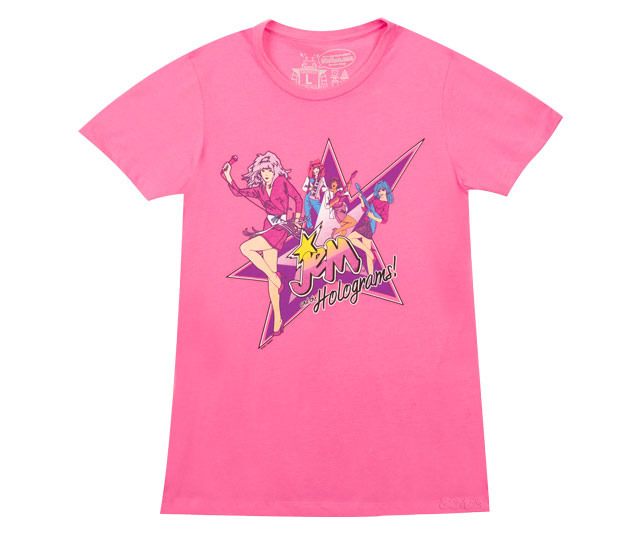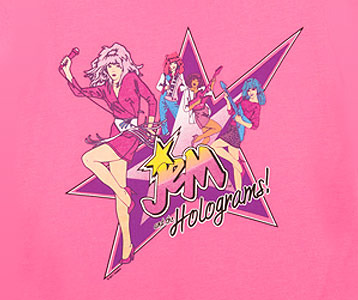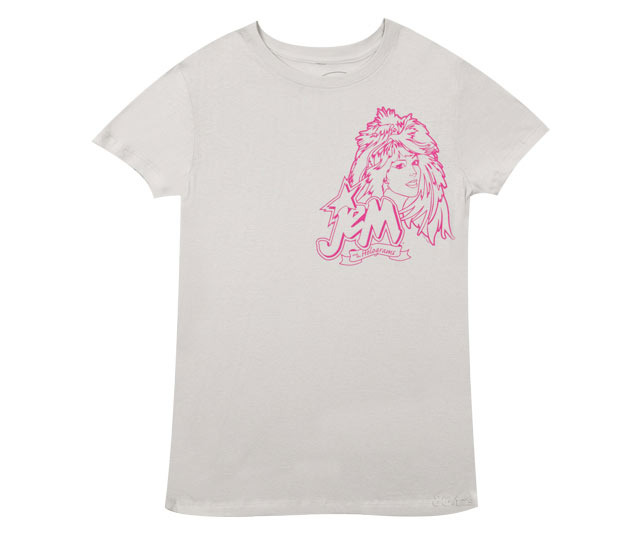 Browse all Jem Tees and Costume Wigs
Jem and the Holograms are Truly Outrageous just like their song says.  It is as big of a hit now as it was in the eighties.  This Jem t-shirt is for true diehard fans of the TV show that couldn't get enough of the cartoon and the band's music as a kid and still can't to this day.  I have to admit that I used to listen to my Jem cassette tapes all the time and still enjoy catching some episodes periodically now.  Sound like you?  Cheer the band on in this Jem and the Holograms t-shirt that displays a colorful cartoon style snapshot of the band members.
When Jerrica Benton's father died she inherited part of his Starlight music business and a foster home called Starlight house.   His former business partner Eric is unhappy about this and wants to sign a new group called The Misfits, including band members Pizzazz, Roxy and Stormer that Jerrica disapproves of.  Jerrica finds a pair of earrings in her possession that conjure up Synergy, a computer that can create holograms and she devises a plan.  Soon, she, her younger sister Kimber (red hair) and her friends Aja (blue hair) and Shana (purple hair) become known as the band Jem (Jerrica in disguise with the aid of Synergy) and The Holograms, represented here by this band tee.
Use this cartoon Jem shirt to show The Misfits you are sick of them always 'Makin Mischief.  It's perfect to wear with a truly outrageous Jem and the Holograms costume wig and makeup to complete Jerrica's look.