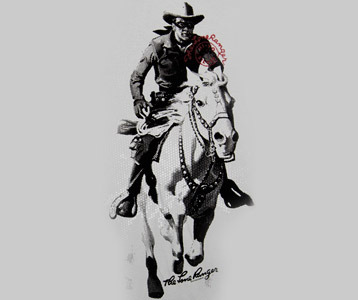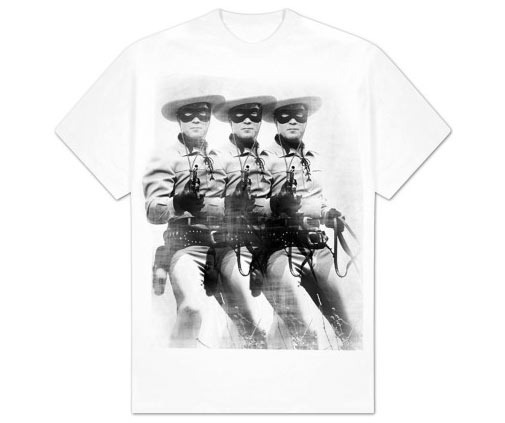 The TV series The Lone Ranger began as a radio show in 1933.  The concept for the show was developed by writer Fran Striker and radio station owner George W. Trendle.  A total of 2,956 radio episodes were produced, with the final episode airing in 1954.  Despite the radio program's popularity, it was Clayton Moore's portrayal of the masked hero on the spinoff TV show that most people remember.   Even those who have never seen the show are able to identify the theme music, the "March of the Swiss Soldiers" finale from the William Tell Overture.  In addition to Lone Ranger toys, cartoons, comic books and video games, merchandise like this Lone Ranger t-shirt continues to remind us of the Texas Ranger who became a noble hero and fighter of injustice.
The story begins with a group of six Texas Rangers being attacked by a ruthless gang of outlaws led by Butch Cavendish.  Only one ranger survives, which provides the origin of the name the Lone Ranger.  In the process of burying his dead brother, the injured man, who goes by his last name Reid, fashions a black mask using material from his deceased brother's clothing.  The mask, shown here on this Hi Ho Silver t-shirt, is used to conceal his identity so that his enemy Butch Cavendish believes that all six rangers are dead.  Joined by his horse Silver and his trusty Native American sidekick Tonto, whose life he had previously saved, he fights to bring Butch Cavendish and his gang to justice.
The character of the Lone Ranger obeys a strict moral code laid out by the TV show's writer Fran Striker.  For instance, the character only shoots to temporarily incapacitate and never to kill.  He also uses proper grammar and is never depicted using slang.  These qualities, in addition to many more, helped to make the character shown on this Lone Ranger shirt a positive role model for fans both young and old.  Pick up this Hi Ho Silver tee (arguably labeled Hi Yo Silver) to show your support for the legendary horse riding hero.
Sold by: eBay Category: TV