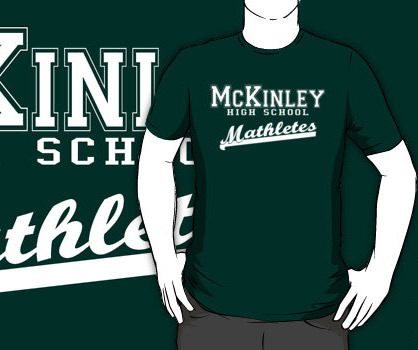 We are under yet another winter weather advisory, so I am laying around wrapped up in my comforter watching the TV show Freaks and Geeks.  I received the cult classic on DVD this year as a present and can't get enough of it.  If you have seen the show, you are probably in the same boat.  Therefore, I am excited to present this McKinley High Mathletes Freaks and Geeks t-shirt for all of the fans who embrace the qualities that make them different.
Freaks and Geeks is a Judd Apatow production that ran for one season in 1999.  The series follows brainiac Lindsay Weir (Linda Cardellini), her younger brother Sam (John Francis Daley) and their friends through the 1980 school year at McKinley High.  Sam is a "geek" who spends his time with conservative intellectual Neal Schweiber (Samm Levine) and highly allergic lank Bill Haverchuck (Martin Starr).  Lindsay is a "freak" who hangs out with pothead drummer Nick Andopolis (Jason Segel), delinquent hottie Daniel Desario (James Franco), blonde bitch Kim Kelly (Busy Philipps) and lazy onlooker Ken Miller (Seth Rogen).  The two groups often clash but eventually an understanding arises between them.
If you remember the different groups in high school or just remember getting picked on, this Freaks and Geeks t-shirt should suit you well either way.  You'll be in good company with this tee.  Lindsay Weir was also a member of the elite mathematics club, the McKinley High Mathletes.  What is the square root of 2704 again?  We're waiting for an answer.