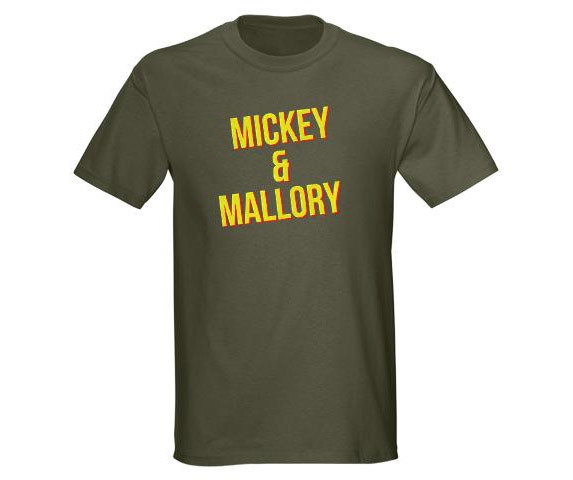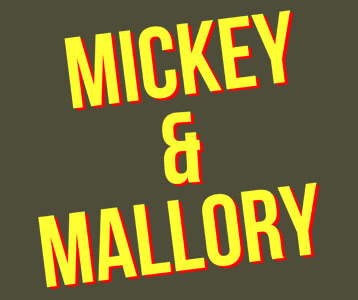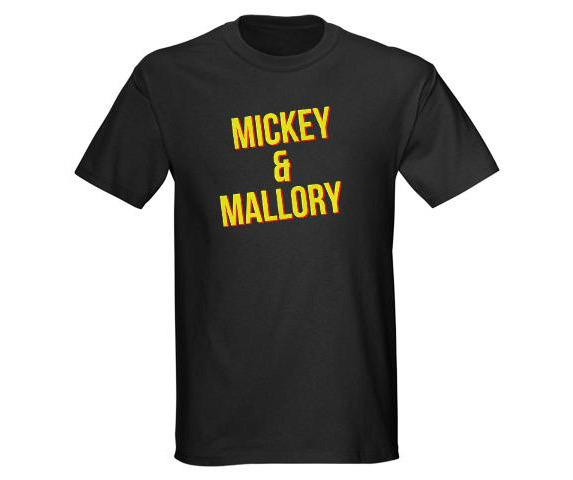 Written by Quentin Tarantino and directed by Oliver Stone, the movie Natural Born Killers generated a significant amount of controversy upon its release on August 26, 1994.  The movie's excessive violence combined with the story's bold glorification of two brutal serial killers, Mickey and Mallory, helped to make the film the poster child for the rise of the antihero in American cinema at the time.  With the end of the Cold War and the growing sense of apathy among many American youth, the days of clearly defined good and bad guys in film had come to an end.  Heroes who had been immortalized onscreen by the likes of Sylvester Stallone and Arnold Schwarzenegger in the 1980s, were being replaced by characters similar to the ones represented here on this Mickey and Mallory Natural Born Killers t-shirt.  However, the movie reflected more than just a trend toward the antihero; it was a complete critique on America's seduction with fame, crime and the media.
Oliver Stone's Natural Born Killers movie tells the story of Mickey Knox and his wife Mallory (Woody Harrelson and Juliette Lewis), two serial killers who are united by their traumatic pasts and tendencies toward violence.  They meet when Mickey, working as a deliveryman, stops at Mallory's home, only to witness her being abused by her father (Rodney Dangerfield) and neglected by her mother.  Having been abused by his own parents, Mickey immediately relates and decides to help Mallory escape.  Eventually, they return and kill both of Mallory's parents, marking the beginning of their killing spree that spans the rest of the movie.  At every murder scene, they leave one victim alive in order to be a witness and spread their story.  The media, led by reporter Wayne Gale (Robert Downey, Jr.), becomes obsessed with following them and turns the pair into glorified antiheros.  This Micky and Mallory shirt plays on that glorification as well, advertising these two natural born killers.
Oliver Stone's movie can either be seen as an appalling exorcise in violence, the celebration of murder and the promotion of the antihero, or it can be seen as he likely intended it to be interpreted, as an uninhibited critique on our society's obsession with violence, murder, fame and the media.  This Natural Born Killers shirt will remind everyone that as morality has declined and the media complex has grown through the rise of things like the internet and reality TV, America's obsession is considerably worse today than it was at the time of the movie's release.
Sold by: TeePublic Artist: Wayward Tees Category: Movies