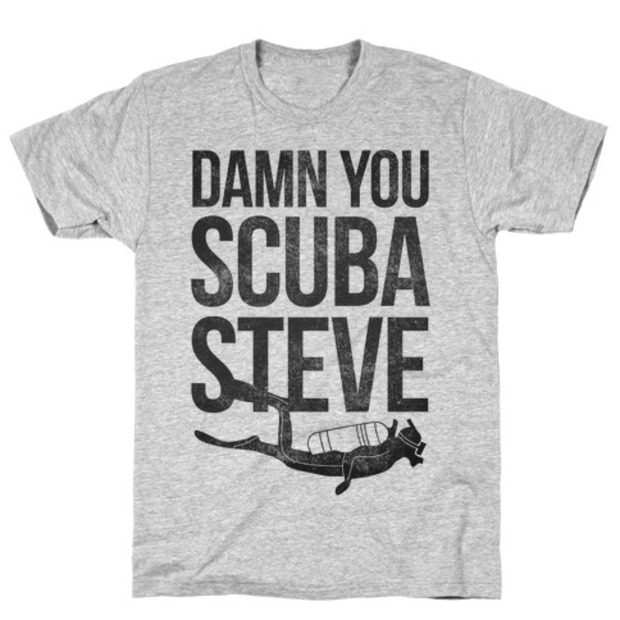 Is there anything better to do on a cold Saturday evening than lay around on the couch and watch Adam Sandler movies with some Chinese food? You may think so but we don't. Either way, tonight I was reminded of how funny the movie Big Daddy is and decided to post this Scuba Steve t-shirt for others who enjoy it too.
For anyone who hasn't seen Big Daddy in a while, here is a quick refresher. Sonny Koufax (Adam Sandler) is an educated man that has no desire to grow up and rooms with his friend Kevin Garrity (Jon Stewart). When Kevin is out of town a child named Julian arrives at the apartment and names him as his father. Soon, social services comes for Julian, but Sonny lies and says that he is the father, claiming Julian as his own. While Sonny isn't the best role model, he grows to become a good father until social services realizes what is going on and Sonny ends up on trial.
This Big Daddy Scuba Steve t-shirt features Julian's favorite toy action figure. Scuba Steve is a member of the Scuba Squad and is dressed head to toe in red and yellow scuba gear just like on this tee. For those of you who want to be a member of the Scuba Squad, "study hard because if you want to be in the Scuba Squad, you have to be smart." According to Scuba Sam, Steve's father, that's what it really takes. Dive! Dive!
Artist: TeePublic Category: Movies