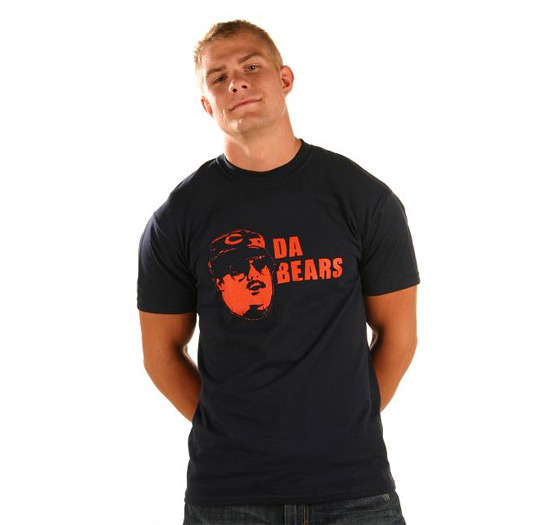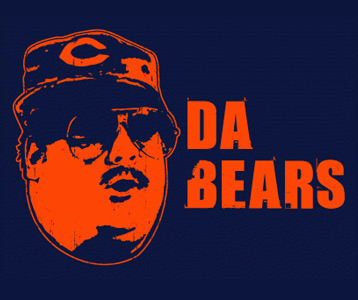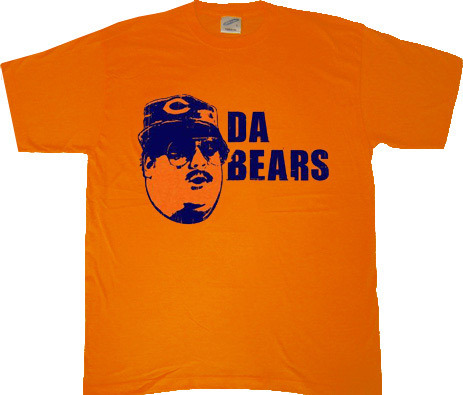 Bill Swerski's Superfans is one of the most memorable Saturday Night Live sketches ever produced.  Evidence of this can be heard every year at Super Bowl parties across the country, as one or two drunk fans always attempt to reenact the skit, substituting the catchphrase "Da Bears" with their current team of choice.  Plenty of Chicago fans show up at games imitating the Superfans skit, wearing Mike Ditka costumes complete with heavy mustaches and dark sunglasses.  This SNL Da Bears t-shirt will have you getting in on the act as well.
On January 12, 1991 the first Superfans skit premiered on Saturday Night Live.  Actor Joe Mantegna portrayed Bill Swerski, the host of a sports roundtable show that took place at Mike Ditka's Restaurant in Chicago.  Swerski was join by Chris Farley as Todd O'Connor, Mike Myers as Pat Arnold (later replaced by John Goodman) and Robert Smigel as Carl Wollarski.  Outfitted in Mike Ditka costumes, their humorous discussions were mostly centered around the Chicago Bears and sometimes the Bulls or "Da Bulls".
Reenact their ridiculous arguments in this Bill Swerski's Superfans Da Bears tee.  These ludicrous debates included whether Coach Ditka would win against a hurricane, reasoning that it was possible unless the name of the hurricane was Hurricane Ditka.  Other arguments included whether Ditka could win the Indianapolis 500 driving the Bears' team bus and who would win in a competition for world domination, Da Bears or Da Bulls.
The inspiration for the Bill Swerski's Superfans skit came from comedian and star Robert Smigel, who partially based the sketch on radio and WGN-TV sportscaster Chuck Swirsky and the moderator of the WGN 1970s' radio show The Sportswriters, Bill Jauss.  The Superfans appeared in nine Saturday Night Live episodes over the span of two years from 1991-1992.  The SNL Superfan sketches ended completely in 1997 following Chris Farley's passing.  If you have a Superfan in your life, this SNL Da Bears t-shirt will be a perfect fit.  It's great apparel to watch football in or argue whether your favorite sports team could conquer the world.  Just don't forget your Mike Ditka mustache and sunglasses.
Sold by: TV Store Online Category: TV