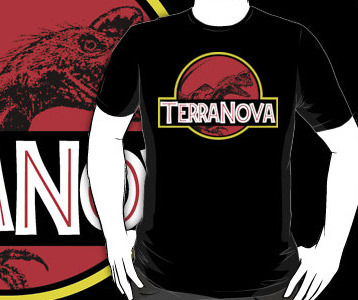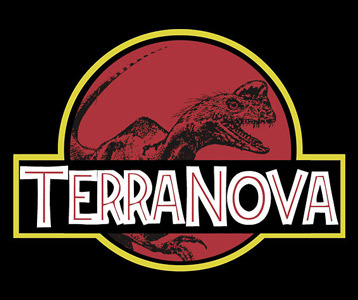 What would it be like if the world was given a second chance?  A clean start at everything in an attempt to do it right this time.  If you like this idea then you'll enjoy this Terra Nova t-shirt inspired by the hit Fox TV show.   The sci-fi series unfolds millions of years into the past in a prehistoric world…where dinosaurs still exist and a tee like this is hard to come by.
In 2149, the world has been ruined by greed and over-industrialization.  The air is unfit for human consumption, there are population growth restrictions (a max of two children per family) and fresh food has vanished almost entirely from the planet.  The only hope is to be one of the elite selected to travel through a time fracture to a rebuilding settlement in the Jurassic period.
Luckily for the Shannon family, mother Elisabeth Shannon is a highly trained doctor who is chosen for the honor.  Eventually she, her husband Jim, their son Josh and daughters Maddy and Zoe arrive safely back in time only to find out that things are already off to a rocky start.  A group referred to as the sixers have gone rogue but compared to the dinosaurs, they seem like a picnic.  Get this Terra Nova shirt if it is an adventure you would be up for or are at least up for watching.
Sold by: RedBubble Category: TV