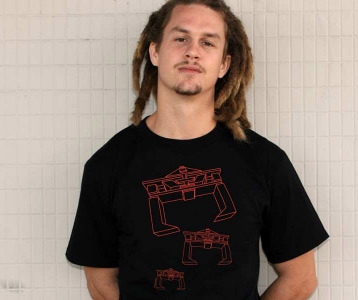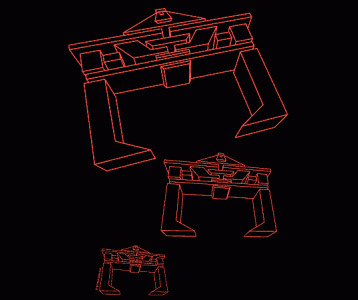 If you could transport yourself into a video game like in the movie Tron, which game would you choose?  I'm a fan of military shooters like Modern Warfare and Medal of Honor Frontline, but I'm not so sure I'd want to be part of that type of game, since being inside a war game would be a little more deadly than playing from behind a controller.  No, I'd probably choose a classic like King's Quest, Super Mario Bros., or even something more like the video game in the movie Tron, which is promoted here by this Tron Recognizer t-shirt.  The tee features the Recognizer (or Reco), a hovering vehicle originally created by Kevin Flynn (Jeff Bridges) for his video game Space Paranoids.
The Recognizer becomes corrupted when Ed Dillinger steals Kevin Flynn's games that he has been working on.  The vehicles then become part of the game grid and are used by the Master Control Program's (MCP) army to capture programs and conscripts attempting to infiltrate the system.  This Tron Recognizer tee helps to convey the enormous size of these enemy vehicles.  The vehicle's two large arms rotate and come together to make a single limb that can stomp on enemy programs in order to capture them.  The Reco makes an ominous sound that is reminiscent of a helicopter.
In the Jeff Bridges Tron movie, his character Kevin Flynn defeats a Recognizer vehicle and then is able to bring it back to life.  He enters the cockpit and pilots the vehicle using its controls that he says are similar to arcade game controllers.  He manages to clumsily navigate the Recognizer to the main city of Tron where he crashes it.  Celebrate one of the most recognizable vehicles in video game fiction with this Tron Recognizer t-shirt that displays several Recos on the front of the tee.