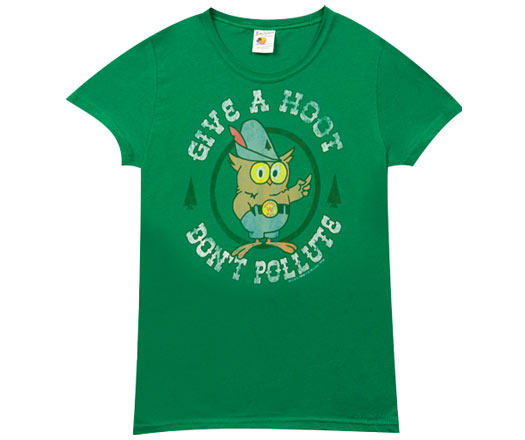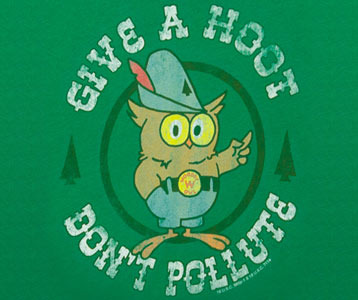 Who is Smokey the Bear's most famous friend?  Need a clue about "hoo" it may be?  That was your first hint but I'll give you one more.  This tee says it all!  The Woodsy Owl shirt shown here features one of his famous mottos, "Give a hoot, don't pollute."  The t-shirt's catchy line is designed to help people, especially children, remember to treat the Earth well or it won't be so pretty in the future.
Woodsy the Owl is one of the United States Forest Service's most notable icons.  He shares the spotlight with his friend Smokey the Bear, who was created to help prevent forest fires during the 1940's.  Woodsy is a bit younger, having been co-created by Harold Bell for Earth Day in 1970.  At the time, Bell was working as a marketing agent for the hit TV show Lassie and had produced PSA's featuring Smokey.  During his time on set, Bell and technical advisers to the show (Chuck Williams, Glenn Kovar and Betty Hite) came up with the mascot that was requested by the Forest Service.
The feathered friend who is shown here on this Woodsy Owl t-shirt has gone through a couple updates over the years, but he remains outfitted in his forest green pants and matching green wedge cap with a red feather to this day.  "Lend a hand – care for the land" is another of his witty one liners designed to promote environmental awareness.  This wise old owl isn't going anywhere anytime soon, so do your part and spread the word with this Woodsy Owl Give a Hoot Don't Pollute t-shirt.  He and Mother Nature will thank you.