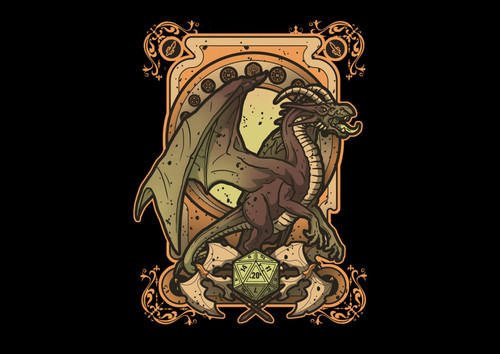 Dark Dragon
Designed by Letter_Q and discovered at TeeFury Yesterday.
TeeFury After Hours Review | Vitals:
Updates:
Daily at 12am EST (available until 9am EST)
Genres:
Geek, Movies, TV, Games
Prints On:
Alstyle Apparel (100% ring spun cotton)
Printing Method:
Screen
Pays Artists:
$1 Per Sale
Founded:
2012 (After Hours)
Price at Launch:
$13
Current Price:
$14
TeeFury After Hours Review | Summary:

To check out the current TeeFury design(s), visit our
main TeeFury page
. This page features the second t-shirt from yesterday's TeeFury TwoFury deal where the site showcases two designs that compete for the most sales. The allure of the competition itself is pretty much nonexistent since it's quite obvious that it's merely a convenient way for the site to offer two t-shirt deals at once. This is without acknowledging the fact that on multiple occasions two designs from the same artist have been featured, which somewhat dampens the idea of a "competition". In any case, two t-shirts for sale are better than one, and TeeFury's After Hours sale is an added bonus in case you missed or hesitated to procure one or both of yesterday's TeeFury t-shirts.