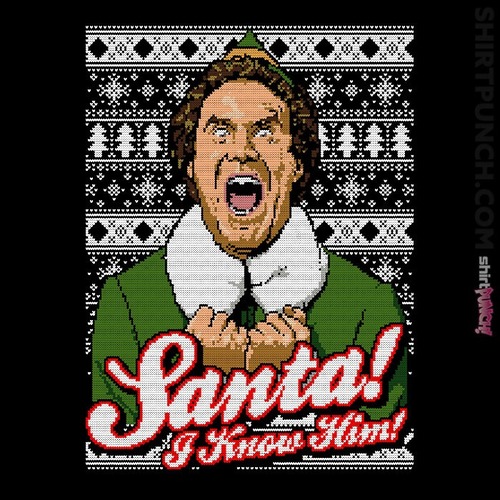 Santa I Know Him
Discovered at Shirt Punch.
Shirt Punch Review | Vitals:
Updates:
Daily at 12am EST
Genres:
Pop-Culture, Movies, Music, Games, TV
Prints On:
Alstyle and American Apparel (100% ring spun cotton)
Printing Method:
Screen
Pays Artists:
$1 Per Sale
Founded:
2011
Price at Launch:
$10
Current Price:
$10
Shirt Punch Site Review | Summary:

Shirt Punch is well aware that they're not the first daily shirt site on the block. The site's founder, Russ Montague, openly acknowledged this by stating, "We're not trying to re-invent the wheel, but rather build upon an already great formula and give our audience what they've been looking for." That includes plenty of pop culture tees, including Star Wars, The Walking Dead, TMNT, Edward Scissorhands and He-Man, to name a few. Shirt Punch has even featured a Willow design created by actor Warwick Davis. They offer tees in men's, women's and youth sizes, the latter being a rarity on similar daily t-shirt sites. Shirt Punch definitely gets an A for effort. They didn't waste time starting off slow, offering a new tee every couple days. Instead, they hit the ground running with daily posts and have offered mostly solid designs from some of the web's most talented artists.