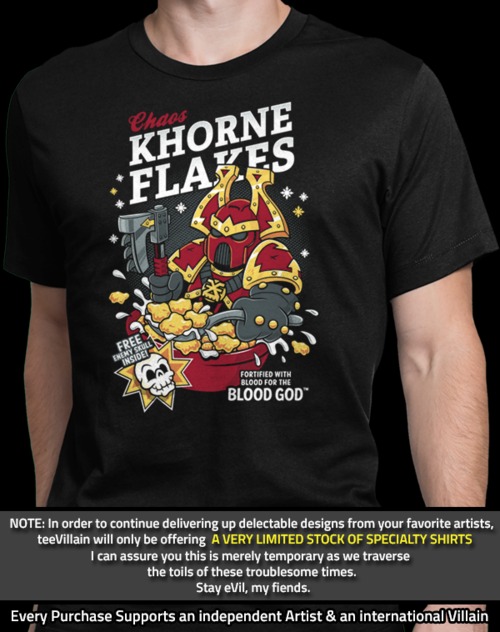 Khorne Flakes
Designed by Nemons and discovered at teeVillain.
teeVillain Review | Vitals:
Updates:
Daily at Midnight EST
Genres:
TV, Video Games, Movies, Comics
Prints On:
Tultex (100% Ring Spun Cotton) / Kids & Ladies 3x on Gildan
Printing Method:
Screen
Founded:
2013
Price at Launch:
$11
Current Price:
$12
teeVillain Tee Site Review | Summary:

In a daily tee shirt industry that's growing more crowded with each month that passes, success partially hinges on the ability to stand out. In terms of site design, teeVillain has accomplished this with an engaging steampunk style that not only complements their site's name but also looks great. Other daily shirt sites often forgo such design elements, which make it clear that the crew behind teeVillain has invested in the future of their business. Another factor in teeVillain's favor is that after an aggressive Facebook campaign, they launched with a 24-hour tee rotation. In order to thrive in today's daily tee shirt market, this is nearly a must. Starting with a multi-day or weekly rotation is like starting a marathon on your hands and knees. While teeVillain seems to be making all the right moves out of the gate, they'll need to continue to court talented t-shirt artists and operate a reliable backend if they want to edge out similar daily shirt sites. In the least, they've certainly caught our attention.